Oh, long at last! The
sequel
to Seraphina has arrived! And it was so worth the wait. Never rush a good author to get a quick sequel.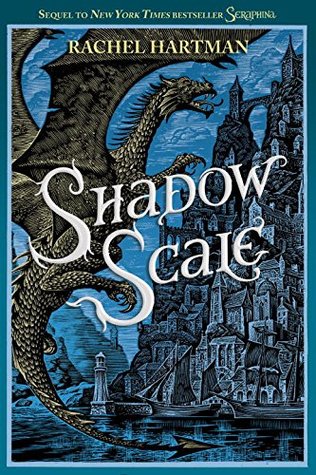 Seraphina
was about a girl who hides the fact she's half-dragon, in a world where an uneasy alliance between humans and dragons can be destroyed by the mere fact of her existence.
Seraphina is in my favorites list and I asked for the hardback for Christmas, with the beautiful new cover, so I could re-read it before the sequel came out.
Shadow Scale, the sequel, is about Seraphina's search for other half-dragons like herself to prevent the coming dragon war, and to find her missing dragon uncle, Orma. (I have no words to express how much I fell in love with Orma in the first book. I was desperate, DESPERATE I TELL YOU, to find out what happened to him in the sequel. And oh my did Rachel Hartman take me on a twisty, heart-rending journey.
The first half of this book was a journey through incredible world-building and a host of impressively unique half-dragons. I commend Hartman for developing each half dragon so well, so different from each other: a celebration of oddness. The second half, where the dragons return to the story, was where my heart engaged: truly I longed for the real dragons (and their cousins, the lizard-like quigutls), though I appreciated learning about the subtleties of half dragons.
I know I will re-read my favorite parts in the Tanamoot again and again, from the marvelous journey up the Omiga valley and the waterfalls, but especially with the tunnels and the quigs and Brisi (Brisi is an adolescent dragon! We get to meet dragonlings in this book! What fun!)
And who knew that the snoring of dragons could create such harmony? Or this, that I loved so much I had to take a snapshot of while reading:
I also enjoyed Porphyry and the feeling of really walking into a vision of Ancient Greece, except that it was different, of course, but still: the Vaskilion? The Bibliagathon? The Agogoi? It felt so Greek to me (grin).
Eskar and Comonot were magnificent (Side note: after reading Shadow Scale, I geeked out on Rachel Hartman's blog for a while and discovered that if Rachel were to pick an actor to play any of her dragons, she'd pick William Shatner to play Comonot. Yes, Yes, Yes!!!) He's definitely that James T. Kirk brand of bravado and boldness, moments that make you smirk, and moments when he surprises you with unexpected wisdom:
Comonot considered. "Logic can lead to many ends, citizen. No one likes to admit that - not even your philosophers. Dragons rever its incorruptible purity, but logic will coldly lead you over a cliff. It all depends on where you begin, on first principles.
Speaking of logic, this book is chock full of philosophy, which I loved.
"The thing about reason is that there's a geometry to it. It travels in a straight line, so that slightly different beginnings can lead you to wildly divergent endpoints."
"Was it probably true that reasoning beings were equal? It seemed more like a belief than a fact, even if I agreed with it. If you followed logic all the way back to its origin, did you inevitably end up at point of illogic, an article of faith?"
And not just deep philosophy, but amusing touches, as well:
The mural on the ceiling depicted Justice, Commerce, and Philosophy having an allegorical picnic of metamorphical sardines.
The reverse love triangle between Lucian Kiggs, Seraphina and Glisselda was resolved in a bit of an unexpected way. Meanwhile, there were some Kiggs and Seraphina scenes that made a book about eccentric dragons and philosophy also heart-wrenching:
He smiled sadly, then placed his hand around mine so we were holding the book together. "I believe that - with everything I have," he said, holding my gaze. He kissed the edge of the book because he could not kiss me.
I loved the bits of paradox, the inside-out house, the exploration of rigid orthodoxy versus flexibile interpretation, the attempt to describe heaven along with admission that it can't possibly be describable.
There are so many more wonderful quotes from this book but I'll limit myself to one last one, an Orma quote because I love him so much. Also, Orma has romantic developments in this book! (Sort of. Dragon romance perhaps more mathematical than romantic... but still)
"Are you finding monastic history a very compelling reason to live?"
"I'm not human," he said. "I don't require a reason to live. Living is my default condition."
I couldn't help it; I laughed, and tears welled in my eyes. That answer was quintessentially Orma, distilled to his elemental Orma-ness
Thank you, Ms. Hartman, for persevering with this sequel; it was well worth the wait. And thank you, Random House Books, for giving me early access to it. My review was not influenced by receiving this copy