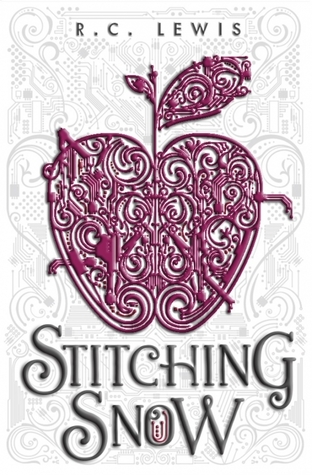 Personally, I can't get enough of scifi retellings of fairytales, so the more the merrier! This one is loosely based on Snow White, with some space travel and new planets. Snow's "domestic duties" are mechanics and programming, which she calls "stitching". Her seven dwarves are her bots programmed to help her. Dopey = Dimwit and Grumpy = Cusser. These guys were definitely my favorite part of the story.
As a part-time lady programmer myself, I loved Snow's mechanical and programming prowess (not so sure about her cage fighting habit, though; was it really necessary? she was plenty tough enough without throwing that into the mix).
I read this book on Adobe Digital Editions, which has the unfortunate habit of NOT SAVING YOUR HIGHLIGHTS if it closes down unexpectedly (like if your battery runs out). So I highlighted half a dozen things I was planning on sharing or mentioning what I liked about this book... and sadly, can't remember a single one other than how the one planet was named Windsong, which annoyed me at first, because it sounded sort of My Little Ponyish. But eventually we get to see the setting a little more and the name comes from the whistling canyons. I longed for more world-building details like this one. I also longed for a little more development of the evil Queen (the emphasis is actually more on the evil King, Snow's true father who is still very much alive and irksome in this version of the story). Also, I believe Kip equated to the Huntsman, and I wanted to know more about this character too, but he always seemed to get skimmed over.
The relationship between the Prince and Snow was refreshingly antagonistic to start out with and continues to have its ups and downs throughout the story.
Overall a fast-paced, entertaining read; I wish I could remember more to say about it! Thank you to Net Galley and Disney-Hyperion for a free digital review copy.